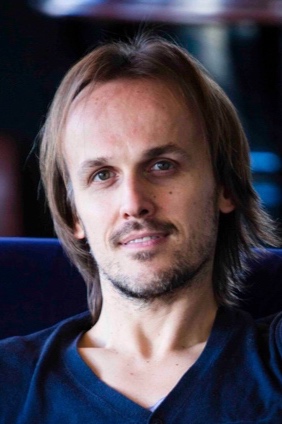 "I tried lots of other things but my heart was always in teaching dance", says Rafal Lautenbach, a highly experienced, multi-talented dancer, who is accomplished not only in the ten dances of Ballroom and Latin, but Salsa and Argentine Tango too.
In 2007, Rafal moved to London, which he considers "the capital of ballroom". In the UK, he has danced in a number of high-profile showcases and Strictly-style competitions and was picked to be part of the supporting cast for CheektoCheek, dancing alongside Strictly's Anton Du Beke and Erin Boag.
A born dance teacher, Rafal's love for ballroom and Latin shines through in his lessons. Although he can be tough on technique ("I always like to push my students slightly harder"), a compliment from him really means something
István Zsigovics
István has been with Simply Dancing Partners for over a year and is extremely popular with all of our clients.
He tried many sports before he started to dance. He was ten when his mother forced him to go to his first lesson. At that moment, he fell in love both with dancing and with a beautiful blond girl and it changed his life forever.
He dedicated the next twenty-four years of his life to professional dancing. He has been taught by over fifty teachers from around the world. He lived for competitions and practiced day and night.
Eleven years ago, he started his own dance school in Hungary and taught students from complete beginners to high level competitors. He created his own style of teaching based on the personality of each individual student combined with his knowledge of the human body and biomechanics but at the same time making it understandable and enjoyable to everyone.
He has come to London with the intention of changing his own life and the lives of his students through dancing.
Elza Opelte
Elza is from Riga, Latvia and is a professional ballroom dancer. During her competitive career she won the UK Championships Latin Amateur Rising Stars, was in the semi-final of the International Championships and ihe final in the Imperial Championships.
She has performed in several shows such as the Broadway production of 'Burn The Floor' in the USA. She was also a professional dancer on 'Dancing With The Stars' in Latvia.
Elza strongly believes that dancing can become a part of lifestyle for everyone as she speaks for herself- after 20 years in the industry she can't imagine a day without it!
Catalin Valcu
Catalin is from Moldova. He started dancing Ballroom when he was five years old. From 2010 he won the Championship of Moldova five years in a row. He reached the semi-final at the World Championship in 2014 a year later started to dance for Germany.
He is now working as a Teacher and Professional Partner for Simply Dancing Partners and is enjoying working with amazing people who continue to inspire and motivate him.
Eddie Slattery
Eddie started to dance at the age of ten. He has over twenty years of dance training and experience and is a fully qualified IDTA dance instructor coaching students for both dance exams and competitions.
He competed in and won multiple British, European and World Dance Championship titles in Solo dance, American smooth, West Coast Swing and Pro-Am divisions first as an Amateur and later as a Professional.
Eddie has a BA (Honours) in Dance from The Performing Arts Studio of Scotland, Edinburgh, where he studied Ballet, Jazz, Tap, Contemporary, acting and singing.
Eddie has been lucky enough to be working consistently since the day he graduated and has travelled and performed all over the world in some of the biggest theatres and on the worlds biggest cruise ships, alongside some of the most well-known talents in the entertainment and theatre industry. This included "Chicago" the musical. He has also been involved with "Strictly Come Dancing" the past few years, working with the creatives on rehearsal days for group numbers and as on of the professionals on P&O's "Strictly"-themed cruises.